Message from Program Coordinator
Prospect of the Program for Cultivating Global Leaders in Heavy Ion Therapeutics and Engineering.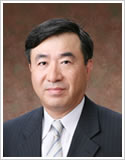 While Japan seeks to be a nation founded on science and technology, there is cause for concern that in the development of medical science and technologies, Japan lags behind America and Europe in many medical fields. Against this background, the" Program for Cultivating Global Leaders in Heavy Ion Therapeutics and Engineering" at Gunma University is intended as a project that aims to allow Japan, as a presumptive leader in science and technology, to overcome its international inferiority in the development of medical science and technologies.
Looking at radiation oncology, Japan is currently leading internationally in technologies for stereotactic radiotherapy, gated irradiation technology, particle beam radiotherapy and so on, and the field of radiation therapy has developed to the point where high-tech such as particle beam accelerators is applied to cancer therapy. This means that radiation therapy is an interdisciplinary academic field where physical engineering and medical science are closely related. This is an academic domain that requires more comprehensive interdisciplinary knowledge than ever. Heavy ion cancer therapy is one of these advanced therapeutic technologies. It is a minimally invasive cancer treatment that provides strong ability to control cancer with the best QOL after treatment and that is one of the few Japanese innovative cancer therapies taking the lead internationally. Looking to the future, the construction of treatment facilities in Japan and overseas is accelerating, and in the near future, heavy ion therapy is expected to become an important method of radiation therapy for cancer. In addition, medical innovation is one pillar of the Japanese government's New Growth Strategy, and in pursuing this, it is very much hoped that heavy ion radiotherapy will promote technological innovation and serve to maintain a leading position in the fields of science and technology. However, this treatment is a cutting edge cancer treatment that can be established only through an interdisciplinary, wide academic area and composite combination of medical science, radiobiology and physics. In this sense, for the implementation and development of particle beam radiotherapy, in addition to the development of cutting edge equipments, it is essential to foster personnel and leaders with the broad knowledge in physical engineering and biomedicine, and the adaptability required to manage this advanced science and technology.
Gunma University is the only institution among universities with a graduate school doctoral course with its own heavy ion therapy equipment, and we conduct postgraduate education and research concerning heavy ion radiotherapy under the auspices of the Heavy Ion Medical Research Center. Furthermore, at the education and research center established through the 21st Century Center Of Excellence Program using accelerator technology, we have accumulated technologies and experience in heavy ion radiotherapy engineering, heavy ion microbeams, medical Compton cameras, clinical practice using heavy ion radiotherapy and so on.
In "the Program for Cultivating Global Leaders in Heavy Ion Therapeutics and Engineering", we have aggregated these elements into an integrated education in physical engineering, biology and medical science concerning heavy ion radiotherapy. "The Leading Heavy Ion Medical Engineering Course" was established in the Graduate School of Medicine by uniting medicine and engineering. The academic organizations are composed of the Graduate School of Medicine and Heavy Ion Medical Center with the participation of the Graduate School of Engineering. Since 2019, We have established full term doctoral program 【Heavy Iron Maecdical and Engineering Cousre】 coombining master and doctoral course at Graduate School of Science and Technology. In addition, we provide a cross-organizational education system offering education and research in the basics of heavy ion medicine and biology, advanced clinical research in heavy ion medicine, and medical engineering. The Heavy Ion Medical Research Center has bundled Memorandum of Understanding with the National Cancer Center Research Institute, the National Institute of Radiological Sciences (NIRS), the Japan Atomic Energy Agency (JAEA Takasaki Advanced Radiation Research Institute), the Japan Aerospace Exploration Agency (JAXA ISAS), and overseas, Harvard University and the Massachusetts General Hospital (MGH), Ohio State University, the GSI Helmholtz Centre for Heavy Ion Research, and the International Atomic Energy Agency (IAEA). Using our sophisticated education and research network with these institutions, we offer an international training and instruction organization, fostering young global leaders with broad knowledge and an international outlook. In addition to the foundations of physical engineering for heavy ion medicine, this program provides students with lectures and training that enable the science to be applied to a wide range of academic fields. The curriculum is designed to allow the highly capable students to complete the master degree of Graduate School of Medicine in 3 years, and Graduate School of Science and Technology in 4 years. In addition, students can establish a career path after graduation through internships at companies and related medical institutions.
In this way, we aim to foster outstanding leaders in heavy ion radiotherapy who can play an active role across various fields of specialization, as globally respected leader scientists who can take the implementation and development of the heavy ion radiotherapy as in radiation oncology and in physical engineering and the medical biology field, or as leaders of research and development at companies developing the equipment for heavy ion therapy.
Takashi Nakano, M.D., Ph.D.
Gunma University Special Professor