Outline
Gunma University has been conducting radiation therapy using X-rays and heavy ion beams (carbon ion beams). This course is designed for individuals who seek various knowledge concerning accelerators and irradiation systems, patient positioning, biological effects and clinical doses, treatment planning and others required for heavy ion radiation therapy. Furthermore, the objective of the course is to develop medical physics researchers who is essential for ensuring the reliability of the radiation therapy, through research for upgrading and improving the reliability of heavy ion and X-ray therapy.
The course develops leaders who may carry out original and creative research, have an insight with broad knowledge, conduct interdisciplinary research, and internationally play an active and cooperative role with a robust scientific and ethical sense of values. Furthermore, the objective of this Program is to develop leaders in heavy ion radiation therapy who aspire to contribute to global medicine and society.
Curriculum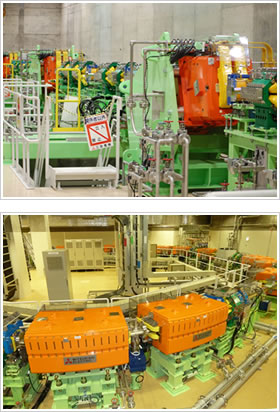 Besides reading the latest relevant literatures, students propose research projects, learn experimental methods and techniques, data analysis, and writing research articles to academic journals. The research topics are related to advancements in heavy ion radiation therapy such as accelerator and irradiation systems, patient positioning systems, Treatment planning systems, and biological effects and clinical dose.
In the basic lectures, students learn about the irradiation methods, patient positioning methods, and the design of treatment planning systems and spread-out Bragg peaks taking the radiobiological effects into account, for the heavy ion radiation therapy. In radiation training, they also study efficient methods of radiation measurement using multi-channel ionization chambers, comparing the measured dose distributions with the calculation in the treatment plan, and the whole procedures of the actual treatment delivery.
In addition, with, the clinical outcome of the heavy ion radiation therapy cannot be explained by the physical dose only, and the radiation quality (LET etc.) is significantly involved in the biological effect. Therefore, students learn about the configuration of the detectors for radiation quality measurement and perform the actual measurement of the radiation quality, gain insights into the radiation quality and the application to the clinical doses.